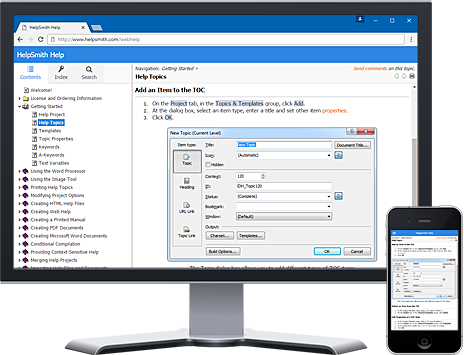 Create a Responsive Web Help System
Responsive layout compatible with desktop computers and mobile devices.
Fully customizable Header, Footer and Mobile Header areas.
Easy integration with Google Analytics.
Automatic Google XML Sitemap generation.
Possibility to use custom JavaScript and CSS styles for topics and Web Help layout.
Support for Facebook and Disqus comments.
Easy integration with a website or application.
Ready-to-use design themes.
Create Help for Dialogs Automatically
Take screenshots of a window or individual UI elements.
Recognition of controls and adding annotations for them automatically.
Automatic generation of a help topic for a captured window.
The possibility to add and edit annotations manually.
The ability to capture the mouse cursor.
Fully customizable style of the annotations.
Learn More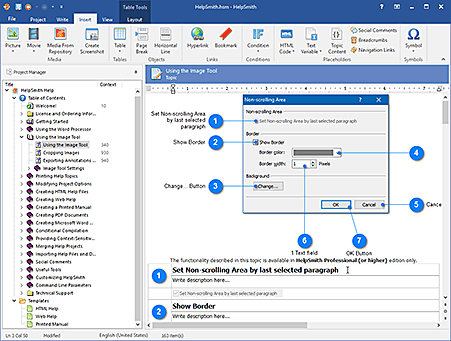 Use Custom JavaScripts & CSS Styles
Use custom JavaScripts and CSS styles in HTML Help (CHM) and Web Help.
Edit HTML attributes of any page elements in a help topic.
Insert custom HTML code into a help topic.
Use any popular framework such as jQuery in your HTML documentation.
Apply any special formatting supported by web browsers.
Full-featured Help Authoring Tool
Multiple output formats from a single source: HTML Help (CHM), Web Help, Printed Manual, Adobe PDF, MS Word, and ePub eBook.
The ability to import HTML, CHM, HHP (with CSS support), and MS Word files (including documents with Table of Contents).
Full-featured word processor: dynamic styles, spell checker for different languages, and Unicode support.
Most powerful Conditional Compilation capabilities based on build tags.
Topic templates to customize the appearance of your help file or document.
Optimized for working with large help projects and usage of minimal system resources.
And more...
Learn More
What Customers Say
BTW, very impressive program. I've used RoboHelp from before the days of HTMLHelp/WebHelp and it took a very long time to learn then you still had to figure out how to hack it to make it work. It's nice to get a product that works out of the box. I'll be purchasing it for my freelance business.
Ginger Stuckey
, HelpSmith User
Read More Testimonials