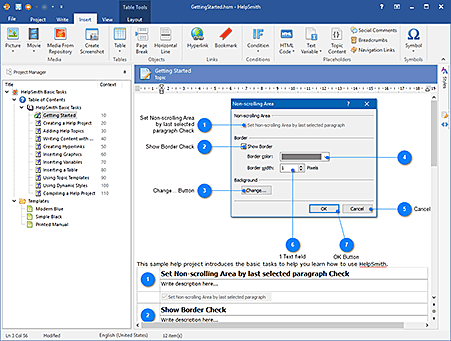 Screenshot annotations created with HelpSmith
Multiple output formats from a single source: HTML Help, Web Help, Printed Manual, Adobe PDF, and MS Word.
The ability to import HTML, CHM, HHP (with CSS support), and MS Word files (including documents with Table of Contents).
Full-featured word processor: dynamic styles, spell checker for different languages, and Unicode support.
Built-in Screenshot Tool with the ability to create and edit annotations for screenshots.
The ability to create help for dialog windows automatically.
Most powerful Conditional Compilation capabilities based on build tags.
Topic templates to customize the appearance of your help file or document.
Variables to insert names, dates, and any other values dynamically.
Insert and manage graphics and videos with a single project's media repository.
Dynamic Styles in HelpSmith
Ready-to-use style schemes and the possibility to create a custom scheme for Web Help.
Support for Facebook and Disqus comments for Web Help.
Auto-correction system to avoid broken links in the compiled help file.
Optimized for working with large amount of data and usage of minimal system resources.
A smart Project Merge feature for collaborative work, translation purposes, and for creating topic libraries.
Easy integration of HTML Help and Web Help with your application or website.
Command line possibilities to automate compilation of help files and documents.
Modern Ribbon interface with a slight learning curve, step-by-step documentation, and sample help projects.
What Customers Say
BTW, very impressive program. I've used RoboHelp from before the days of HTMLHelp/WebHelp and it took a very long time to learn then you still had to figure out how to hack it to make it work. It's nice to get a product that works out of the box. I'll be purchasing it for my freelance business.
Ginger Stuckey
, HelpSmith User
Read More Testimonials